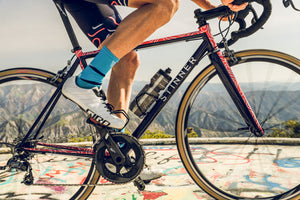 Let your bike reflect that.
Custom Order Process
If you're considering purchasing a Custom Stinner, you can rest easy knowing that the order process is fairly simple and quite brief.  Our current lead time on orders is approximately 10-12 weeks.  Whether you plan to purchase directly from our workshop or work with your local Stinner Dealer, you will be guided through the process by highly skilled individuals dedicated to uniting you with a bicycle you will be proud of.
STEP 0: FIGURING OUT WHAT YOU WANT
Before you can officially start the Order Process, you need to start by choosing a Stinner model and deciding on how you would like to build it up.  We offer several frame models to cover the bases of performance-driven cycling.  Each model has a standard geometry chart that spans a range of sizes, allowing the majority of our customers to find the right size based on common measurements.  We also have an impressive selection of top-tier components ranging from affordable to extravagant price levels to help you choose how to build your dream bike.
STEP 1: DROP US A LINE
At the bottom of this page, you will find a contact form with some easy questions. This will get the process started. We will be happy to provide quotes and discuss options, before you have to make any commitment. After we discuss options and you are comfortable with the process and a rough estimate, we will move on to step two.
STEP 2: INITIAL DEPOSIT
After giving the thumbs up in Step 1, you will be asked to place an initial deposit. Initial deposits for framesets is $1000 and deposits on complete bikes is 50% of the estimated total.  Our production schedule operates on a highly-organized one-piece flow system–every order we receive is handled individually from drafting and designing, fabricating and welding, to painting and building.  Your deposit allows us to reserve your spot in our production schedule. This is when your 10-12 week lead time will start.
STEP 3: YOUR STINNER DESIGN PACKAGE
Once we've received your deposit, we'll gather information from you to create your personal Stinner Design Package.  The information and questions we will be asking will help us to execute these four documents:
FRAME DRAFT – This is typically the first piece of information that we put into your Design Package. A CAD drawing of your frame is created from your model, material, and size selections.  Any frame add-on's will be indicated in the notes section.  This same draft will be taken back to our machine shop where the tubes will be fabricated and welded into a bike frame. 
SPEC SHEET – This is a comprehensive list of the components involved in building a complete bicycle. Even if you ordered only a frame and fork, we will add a Spec Sheet to your Design Package. The Spec Sheet ensures that you will have everything necessary to build your Stinner and that we provide all of your requested component.
PAINT DRAFT – The Paint Draft is a digital mockup of your chosen paint design from our included Collection schemes or from The Vault.  The design and colors shown on the digital draft are as close to reality as we are able to accurately represent.
ESTIMATE – The Estimate reflects the total charge for your Stinner based on Frame Draft, Spec Sheet, and Paint Draft.  You will see a line item with a description and amount for each major piece of your Stinner.  Your total does not include applicable tax and shipping charges.  If you are an international customer, please expect to possibly pay additional import charges to your Customs department to take your Stinner home.
It is very important that you review each document in your Stinner Design Package and ensure that everything is correct, because your order will be made exactly to the specifications in the package.  Once we receive your approval, we'll fire it off for production.
STEP 4: RELAX
Once you've gotten through Steps 0 through 3, you can relax while we work diligently on your order.  We'll let you know if anything comes up, and we might even send you a photo of your frame being welded or prepped for paint. 
STEP 5: GET STOKED
After about 6-8 weeks and your frame has come out of the paint booth, we will contact you to let you know that the project is nearly finished.  For another week, your frame will cure on the wall, allowing the paint to harden before the frame is built up and shipped out.  We'll then package your frame safely into a box, along with any components and a personal note from us, and it will leave our garage for your front porch or local bike shop.
Building a Stinner requires you to dream big.  That's why we've perfected our process to give you as many high quality options as possible and finish your build within a competitive lead time.  Stinner Frameworks prides itself its ability to design and build you a bike meant to last countless hours and miles, and our dedicated staff will be here to guide you through every step of the Order Process, from your initial introduction email to the first moment you throw your leg over your ultimate forever machine.
Custom Order Inquiry
Please fill out contact form below and we will get back to you as soon as possible to get the custom order process started. The more information you can provide about what you are looking for, the better.