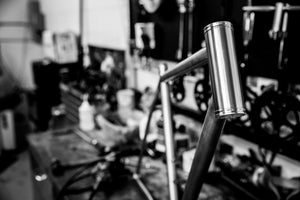 WHERE WORLD CLASS DESIGN MEETS HIGH PERFORMANCE.
Stinner Frameworks builds top-tier steel and titanium bicycle frames using some of the lightest and highest-quality tubing in the world.  Our workshop combines craftsmanship and performance-oriented detail to produce frames that are designed to excel in their respective disciplines. 
Our small team at Stinner Frameworks is dedicated to your experience.  We build bikes because we love them and the places they take us, and our passion lies in sharing our craft with you.
Aaron Stinner
Broom Pusher, Welder, Dad, Husband.
Jeremy Platt
Director of Operations, Fabricator, Father, Husband.
James Bellerue
Director of Design, Lead Painter, Dog Dad.
Brittany Stinner
Wrangler, Administrative Director, HR, Mom, Wife.